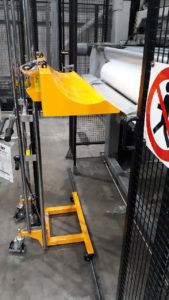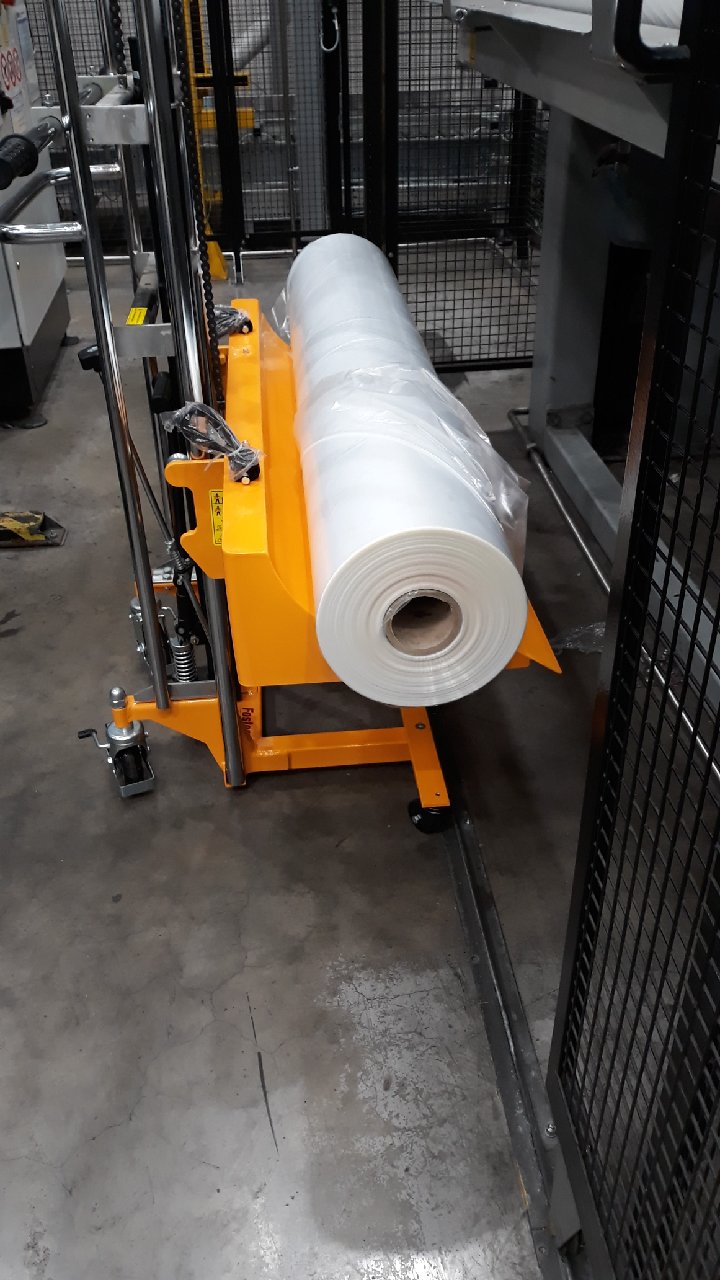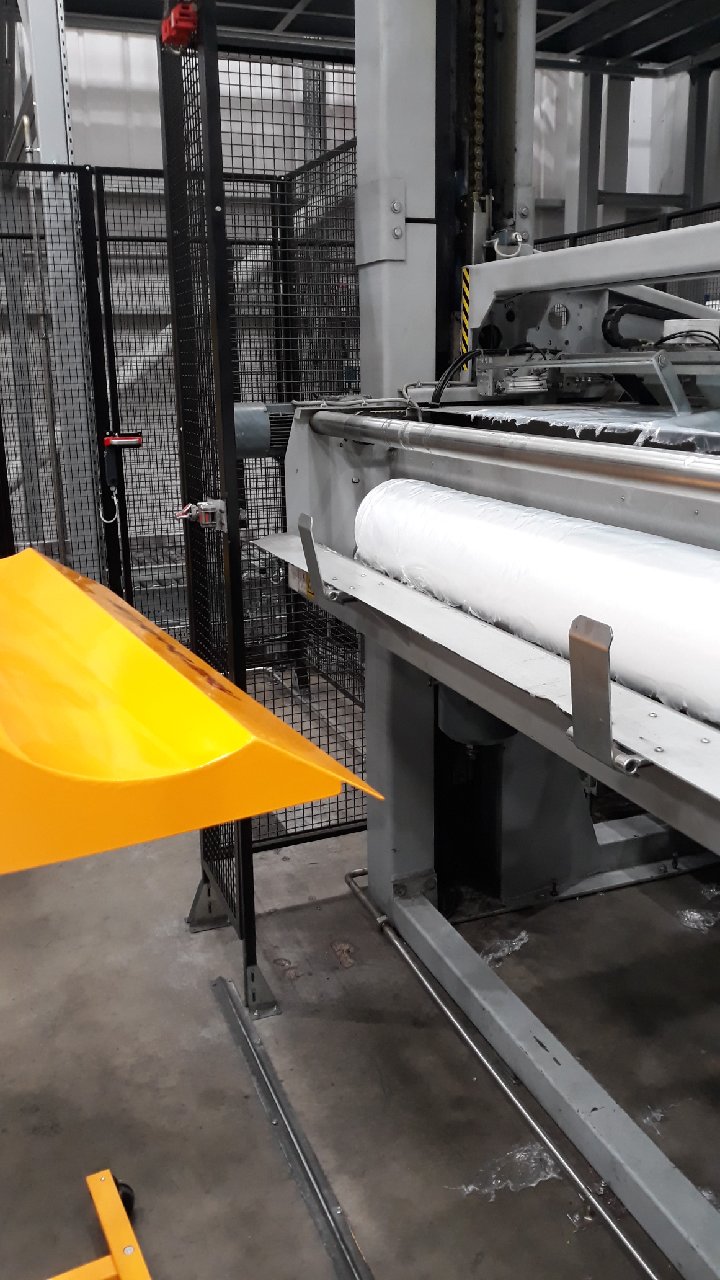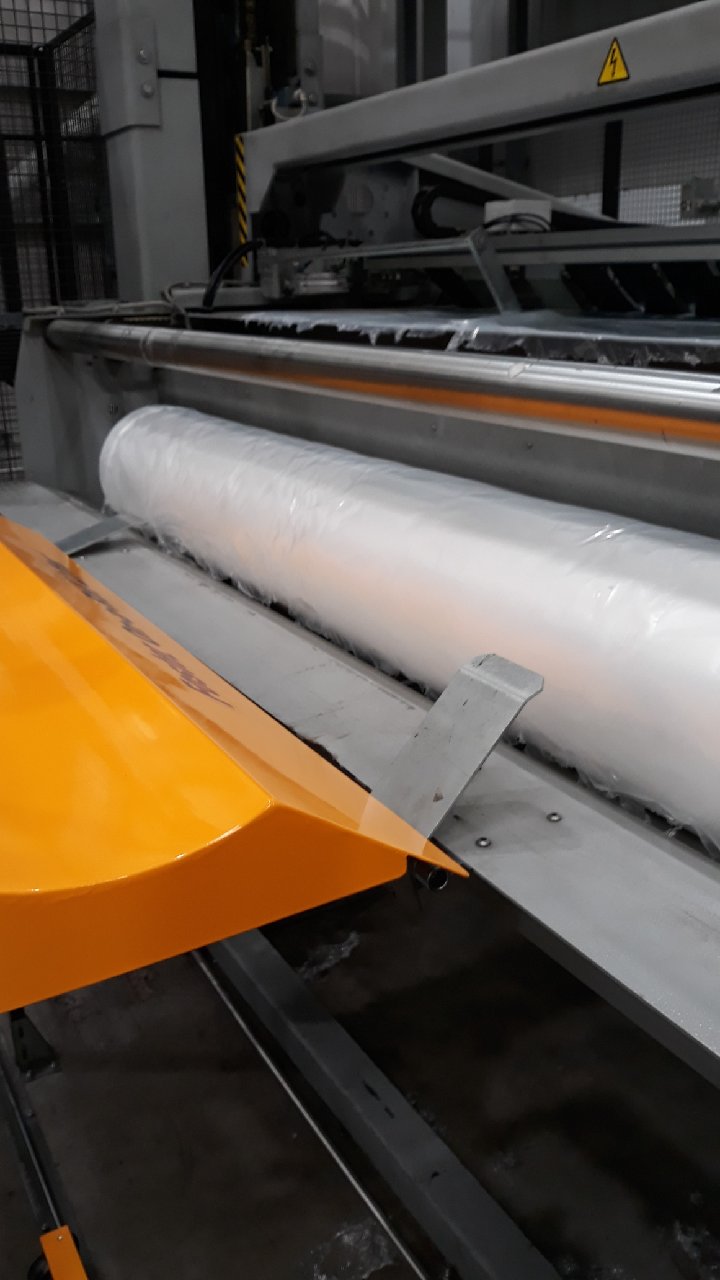 (On-a-Roll® Lifter Hi-Rise)
"I would just like to say thank you for all your patience, help, assistance and for demonstrating to us the capabilities of the On a roll lifter. It is proving to be an extremely useful asset."
Line Manager
Princes Ltd – Eden Valley
---
(Futura Safety Flexo Plate Cutter Series 2)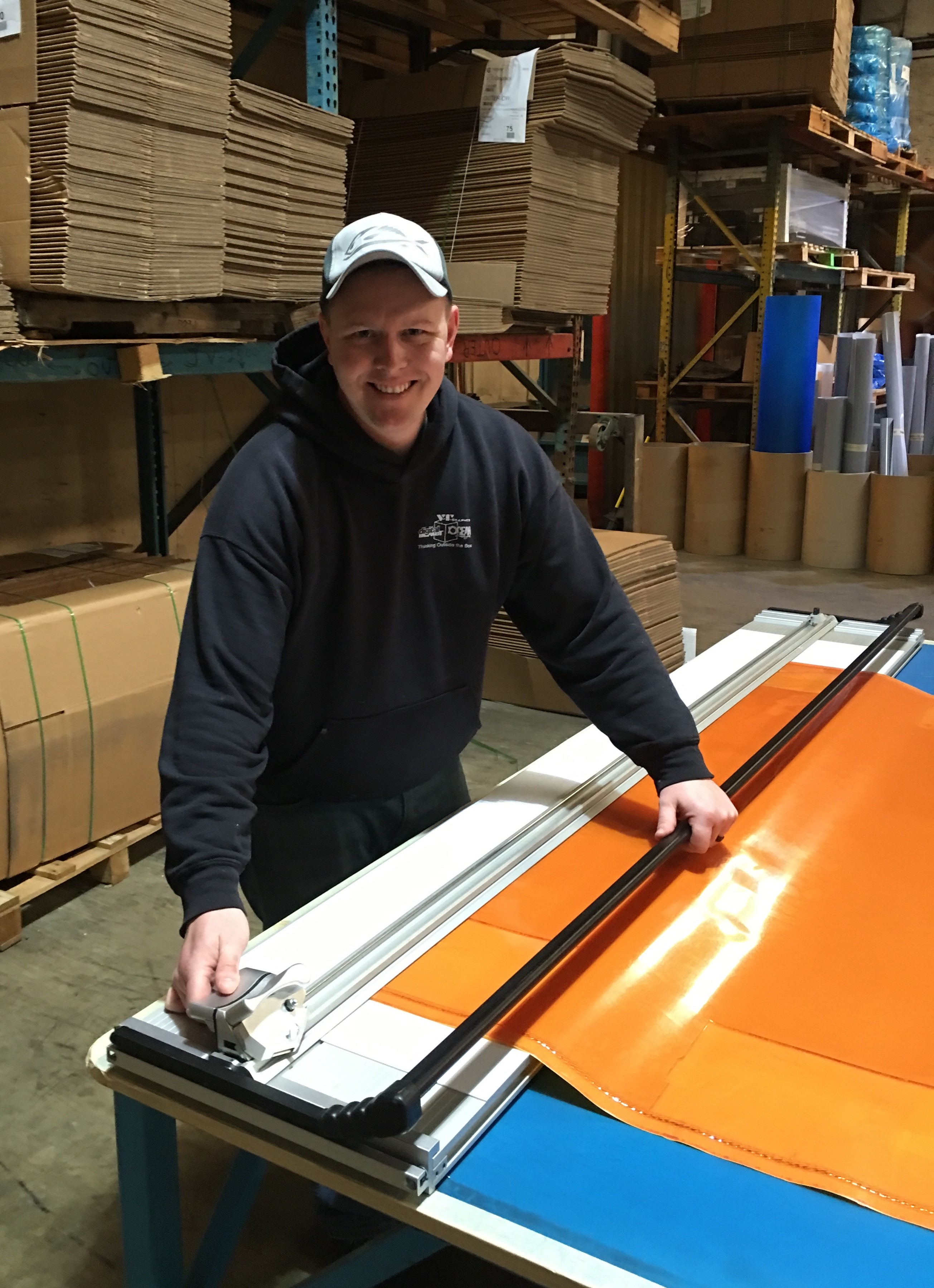 "The Futura cuts with ultimate precision time-after-time. Our highly skilled team can trim plates with superior accuracy, quickly and safely in half the time. Thank you Foster and Keencut!"

Kev Crowley
Production Manager
VT Graphics
Yeadon, PA
---
(All-A-Board® Lifter)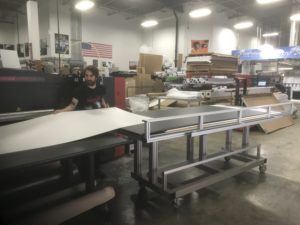 "The All-A-Board® Lifter is like having an extra person on the job. What a tremendous help this is – especially when our skilled staff is limited and we really need an extra hand. Since we work in such confined space, the ability to flip the All-A-Board® Lifter vertically to move it through aisles to the printer or finishing department, then rotate it flat, makes lifting so much easier. The All-A-Board also eliminates the strain of lifting sheets from the pallet. It doubles as a transport device as well as a worktable. It's super light and moves like a dream. We need to order more!"
Eric Berger
President, Color Reflections
Philadelphia, PA
---
(100" Rotatrim Technical Rotary Cutter and Stand & Waste Catcher)
"This cutter is working out much better and we haven't had any issues with tearing out creasing of our posters like the last cutter. This cutter really holds down the material so it does not bend while we are trimming."
Alisa Engeland
Chief, Medical Media
Department of Veterans Affairs
Seattle, WA
---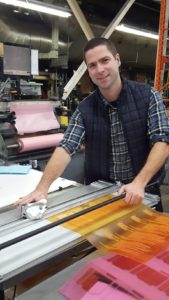 (Futura Safety Flexo Plate Cutter Series 2)
"Our internal cost is approximately $100/plate. With the Futura Safety 

Flexo Plate Cutter Series 2, I would estimate a time reduction of 30 seconds per plate. It has reduced cutting errors by approximately 10% due to better visualization of the plate cut mark position, via the site line. This ensures we don't have to order a back-up plate for our full bleed butt cut plates. It has reduced the number of plate issues on press by 5%."
Andy White
Pollard Banknote Limited
Winnipeg, MB, Canada
---
(On-a-Roll® Lifter Power Jumbo)
"We use the machine all day in our material prep area and it's working great. What a nice addition to our process to make things more efficient and safer. Thanks for a great product."
Fred Schulze
SP Production Manager
---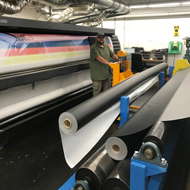 (On-a-Roll® Lifter)
"The Foster lifter has dramatically simplified our production. Roll changes are fewer and faster, and employees no longer need to climb on the frame to put everything in position. We are looking at additional Foster lifters to use on other machines."
Greg Bates
Plant Manager
Vincent Printing
Chattanooga, TN USA
www.vincentprinting.com
The Foster case study (see link below) documents how Vincent Printing uses Foster On-a-Roll Lifter® to ensure smooth and reliable operation of their production facilities.
Vincent Printing Case Study Letter Size
---
(On-a-Roll® Lifter Low Profile)
"Working great- saving our backs"
Frank Ferreiras
Solid Color Inc.
78 John Miller Way #420
Kearny, NJ 07032
Phone: (215) 239-3930
---
(98″ SteelTraK and 104″ Evolution-E2)
"We are happy to have your product. This is our second Foster product, we also have an Evolution E2 which we use all day every day and it has made our work so much easier."
Tony Barker
Sign Me Up Signs
7964 Kentucky Drive Suite 6
Florence, KY 41042
Phone: 859-814-8814
---
"Modern Woodmen of America is the 3rd largest Fraternal Life Insurance Company in the U.S. and was outsourcing most of its wide format work. A couple of years ago, we made a commitment to expand our wide format product offerings to our Home Office. We purchased the Evolution E2 to assist us with banners and foamcore signs. A couple of months ago, we added a Scitex FB 750 to our wide format family so that we could produce larger signs and other marketing pieces as well. Before we purchased the printer, we made a site visit to a local print shop that had the same printer. During our visit, we noticed they had a SteelTrak cutter, which they were very pleased with. We were impressed with the ease and functionality of the cutter. The experience we had with the E2 gave us confidence knowing we were buying a high quality cutter from a reputable company."
John Oliger, Manager, Print Services
Modern Woodmen of America
Phone: 309-793-5606
www.modernwoodmen.org
---
"The cutter is working perfectly and has both been a time saver and a much safer way to cut our Flexo plates."
Jerald Winstead, Technical Manager
Essentra Packaging
10500 Industrial Drive
Pineville, NC 28134
Phone: 704-243-8060
www.essentrapackaging.com
---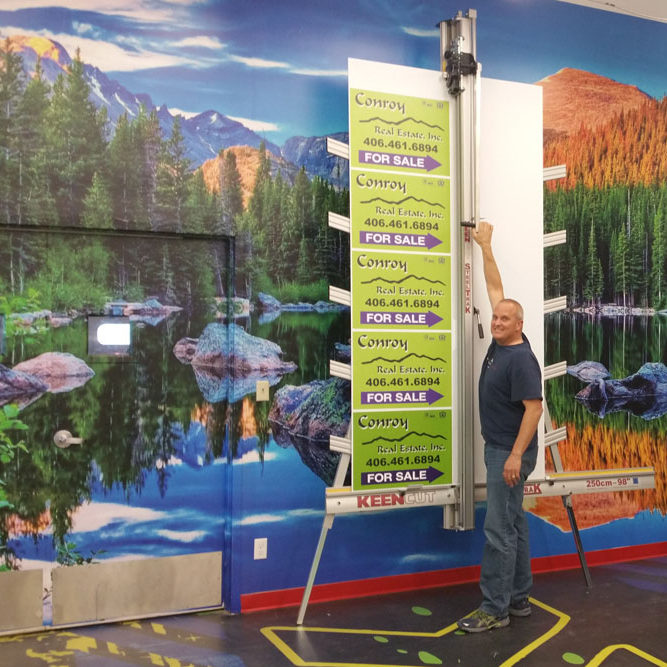 "Until I bought the Foster Keencut SteelTraK vertical multi substrate cutter, I was cutting Dibond® with a table saw, and constantly suffering with ragged edges.  Now I get flawless cuts every time.  Plus, the 98-inch height of the cutter enables me to cut full sheets much more accurately, and to save material by making cuts that were impossible before.  The SteelTraK is one of my best investments.  It is an extremely versatile piece of equipment and very easy to use.  And it is rugged enough that replacing it should not be necessary for years."
Greg Painter
Owner
FASTSIGNS 637
Helena, MT  USA
The Foster case study (see link below) documents how Fastsigns 637 uses Foster Keencut's SteelTraK 98″ Cutter to ensure smooth and reliable operation of their production facilities.
Fastsigns 637 Case Study Letter Size
Fastsigns 637 Case Study A4 Size
---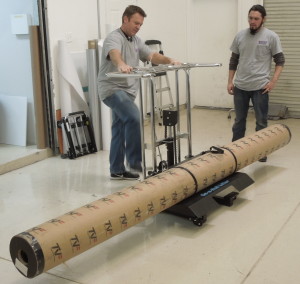 "Our new Foster On-A-Roll® Lifter makes loading our HP 3100 Latex printer a breeze.  Handling our big substrate rolls formerly required two or three operators. Now one can do it alone—even in the tight space behind the printer."
Justin Acklin, Production/Installation Supervisor
Quick Change Display
Las Vegas, NV USA
The Foster case study (see link below) documents how Quick Change Display uses Foster On-a-Roll® Lifter to ensure smooth and reliable operation of their production facilities.
Quick Change Display Case Study Letter Size
Quick Change Display Case Study A4 Size
---
"Our Foster workbench and cutter is the best piece of equipment in our shop."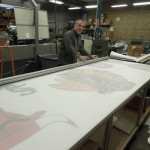 Dave Drnek, Production Manager
Graphic Image Corporation
2035 West Grand Avenue
Chicago, IL 60612
Phone: (312) 829-7800
www.graphicimagecorp.com
The Foster case study (see link below) documents how Graphic Image Corporation uses Foster cutters to ensure smooth and reliable operation of their production facilities.
Graphic Image Corporation Case Study Letter Size
Graphic Image Corporation Case Study A4 Size
---
"I love it. It's my best friend!"
Morgan Cox, Production Manager
Emagine Digital, Inc.
9606 Kearny Villa Road
San Diego, CA 92126
Phone: (858) 549-5100
Fax: (858) 549-5106
www.emaginedigital.com
---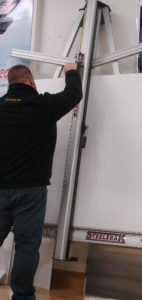 "The addition of Foster Keencut products to our one-stop digital and screen printing shop has made a huge impact. The SteelTraK is easy-to-use and cuts signs perfectly every time. Its wall-mounted option saves us space as well. We started with an Excalibur, later adding the SteelTraK to our production line, making us that much more efficient."
Jonathan Bauer, Digital & Screen Print Production Manager
Voss Signs, LLC, Manlius, NY
112 Fairgrounds Drive
PO Box 553
Manlius, NY 13104
Toll Free: 800.473.0698
Phone: (315) 682-5943
Fax: (315) 682-7335
www.VossSigns.com
---
"The Sabre General Purpose Cutter is extremely easy to use and I get perfect cuts every time."
Matt Santora, Owner
Santora Media Group
2180 Garnet Ave. Suite 1E
San Diego, CA 92109
Office: 858.412.4414
Fax: 858.412.5649
http://www.santoramediagroup.com/
San Diego Banners

---
"The best piece of equipment we have ever bought with a ROI of less than 6 months."
Amin Suleman Nathoo,President
Topknotch Prep & Print Ltd
855 Matheson Blvd E #6
Mississauga, Ontario, L4W4L6
Tel: 905-624-5100
www.topknotch.com
For the past ten years this small commercial printer has prided itself on maintaining open and friendly relationships with its customers while providing quality traditional offset, digital and wide format printing at the best possible rates.  Topknotch not only provides excellent service to its customer, but works to remain conscientious of the environment as well as using recycled and FSC certified papers and printing with vegetable based inks.
---
"The Duratran Co. purchased our first Keencut system graphic cutter in 2000 and we have been in love with the performance ever since. Not only is the quality of these cutters unbeatable, but the consistency from graphic cut to graphic cut is simply phenomenal. Another great thing we have found with Keencut cutters is that they are so easy to learn to use. This really comes into play when we encounter delivery crunch times. Because these cutters are so easy to use, it helps us add extra staff to the cutting process very quickly. Training new material handlers to learn the cutting process usually takes just mere minutes. We have grown a lot since the purchase of our first Javelin cutter and have added more to the production department. I would give Keencut my highest recommendation to any other printer and graphic finisher. I would even go as far to say that these cutters are by far the best investment in finishing equipment that we have ever made."
Casey Ford, Owner and CEO
The Duratran Co.
203 S. Cutler Street
Spring Lake, Michigan 49456
Toll Free: 800.962.3119
Office: 616.296.0227
Fax: 616.296.0230
www.duratran.com
---
(PowerTech Testimonial/story)
There's No Hiding This Fact: The Rotatrim PowerTech Makes the Cut
It's no surprise that an avid sportsman would hunt until he found just the right trimmer for his camouflage manufacturing company.
That's precisely what Rip Stoltz, president of Louisiana-based Camowraps, did when he was searching for a power trimmer that would effectively cut through the adhesive camouflage vinyl products that adorn automobiles, ATVs and marine watercraft across the United States.
"We digitally print onto a bulk roll of adhesive-backed vinyl and then trim down the sheets to make kits," explains Stoltz.
He says the electrically powered Rotatrim PowerTech seamlessly cuts through the vinyl that is also clear-coated for scratch resistance, fade resistance and UV protection
"The durability of the machine was important to us when we chose the PowerTech," Stoltz adds, indicating that the trimmer is in use half of each week for about four hours at a time. "This cutter outlasts others in the industry from a longevity standpoint. The investment was worth it for the robustness and features. It's a tremendous value for a heavy-duty cutter." The cutter was also the appropriate size to fit the company's needs. "It wasn't overkill and wasn't too big. Plus we liked the self-sharpening blade and two-way cutting feature that other products didn't have."
The biggest benefit, he says, is the trimmer's efficiency. "Power trimmers take the manual labor out of a project. We don't have to reach across and cut, or use a ruler to cut. The automation definitely improves our operation's efficiency." The PowerTech is activated with the push of a foot pedal, leaving the hands free, and is electrically driven through a robust steel-reinforced belt.
While camouflage is key to the Camowraps business, Stoltz says the company won't hide one thing: the success they've had with the Rotatrim PowerTech. "We haven't had any issues with the trimmer but know that if we did, we could count on Foster Keencut to assist."
"The Rotatrim PowerTech is a tremendous value for the purpose it serves in our company."
Rip Stoltz, President
Camowraps
429 South Street
Slidell, LA 70460
Phone: (985) 607-0023
www.camowraps.com
---
Happy in Kentucky: SteelTraK Saves Time, Money
Owner of Kentucky-based Amazing Signs and Banners Dale Mulhall used to rely almost exclusively on his panel saw. These days, however, it's all but retired.
"We used the panel saw hundreds of times a day," says Mulhall, "but now we use the Keencut SteelTraK on every project and the panel saw maybe once a month."
Mulhall admits, however, that he hadn't intended on purchasing a vertical multi-substrate cutter when he attended the 2008 NBM Show in Indianapolis. "I happened to see a demonstration and realized how well-built the machine was."
He also walked away convinced that the SteelTraK was the heavy-duty cutter that could handle the Dibond and Alumilite frequently used in his two man shop. "The more I looked at it, the more I realized that the tool would pay for itself."
And it did. In the first year.
It's All About Savings
The SteelTraK not only provides the clean, straight cut Mulhall was looking for, but it has also saved him at least two hours a day. Instead of cutting material on the panel saw first – a messy, ragged-edge endeavor that threw particles and dust throughout the shop – and then printing on vinyl, and finally applying to the substrate, he can print directly to substrate and cut.
"What it saves us more than time, though, is money," explains Mulhall of the reduction in waste. "When you're cutting with a razor, the razor is never straight, it wobbles and doesn't cut all the way through with the saw." The end result: slips, uneven cuts. Those mistakes were always costly for Mulhall since they meant starting each job over again – with new substrate, vinyl and printing. "The SteelTraK has cut down on my waste at least 10 percent."
Other benefits Mulhall points to are ease-of-use and longevity. When he was out of town once, Mulhall walked a customer through the trimming process with the SteelTraK, simply over the phone. "It's that easy," he says, of the client who made the cuts back at the shop. "And we're still using the original twin-wheel cutting tool that came with the machine."
When he looks back, Mulhall says he's happy he stumbled upon the Keencut SteelTraK demo. "For a small company like mine, that was a big purchase. We don't usually buy things that size," says Mulhall. "But it was well worth it."
"The SteelTraK is the heavy duty, large capacity version of its competitors. It's more rigid in its squareness and we can put a 5′ x 10′ sheet on it and not have to worry."
Dave Mulhall, Owner
Amazing Signs and Banners
4712 Foxchase Dr.
Sheperdsville, KY 40165
Phone: (502) 957-4149
www.amazingsab.com
---
(Evolution-E2 Testimonial/Story)
We Have a Winner: Evolution-E2 Improves Speedway's Efficiency
Drivers on the track at the Michigan International Speedway aren't the only ones improving their times these days
The sign crew, with the help of the Keencut Evolution-E2, is also making significant gains. "This cutter has definitely increased our productivity," says Dustin Gilbert, graphic sign designer for Michigan International Speedway. "The Evolution operator gets things done ten-fold now that we have this machine."
And at a speedway, there are plenty of projects that need doing: directional signage for pedestrians, sponsor panels above the ticket gates, pace car decals, trailer wraps and vinyl graphics applied around the length of the track that now replace previously painted images. The sign crew uses the Evolution-E2 to trim and finish them all.
"In crunch time before races, we used to have two to three people in the shop working at different tables, cutting Coroplast manually with straight edges and knives," explains Gilbert. "Now we can have two more people out in the field completing other jobs, and only one running the Evolution."
Not only that, Gilbert says that cramped hands and injuries resulting from slipped blades are nonexistent now. "The Evolution-E2 is very safe. It's actually hard to get a finger inside it to cut yourself." What's more, Gilbert says that the speedway has significantly reduced wasted material since the crew is making fewer mistakes than they made when trimming by hand.
Just the Right Horsepower
The sign crew uses the Evolution-E2 every day for at least eight hours. "Two to three weeks before race time, the machine is going 12 to 14 hours a day," says Gilbert. The speedway also chose the 144″ model of the precision cutter to handle wide format jobs. "This is a well-built piece of equipment, very precise – the biggest in the Evolution-E2 line – and with the ability to adjust cuts to the thousandths of an inch. And it's solid. We couldn't ask for more."
Even with that volume, Gilbert says the machine is performing beyond his expectations, and that even the blades have an incredible shelf life, considering the rigid materials being cut. "After seven months of having the Evolution-E2, we hadn't gotten even halfway through two boxes of blades."
The Proteus Workbench, designed to fit the Evolution-E2, is another product that Gilbert says is part of the speedway's new, winning solution. "The modular system is impressive – how you can put pieces together to create a bench – and if we wanted, we could easily transform it into an L shape by adding more pieces."
When Gilbert was in the market for a time-saving trimmer, he turned to a trusted Foster Keencut dealer. "Advantage Sign Supply, one of our main vendors, indicated that the Evolution-E2 was the best in the market for rigid materials and pointed us to a video of the product in action, cutting foam board and Coroplast. We quickly realized it was the tool we needed. Before we knew it, Advantage had it delivered, and we were ready to go."
As Gilbert and his crew look forward to future races at the speedway, they agree that purchasing the Evolution-E2 was a profitable strategy. "Price- and value-wise, this is one of the best investments we've ever made. It's one of the biggest cost-saving items we've ever purchased."
"The cuts are more exact and there are a lot fewer mistakes. The Evolution-E2 saves us time and money."
Dustin Gilbert, Graphic Sign Designer
Michigan International Speedway
12626 US-12
Brooklyn, MI 49230
www.mispeedway.com