Holds rolls securely. Moves them easily.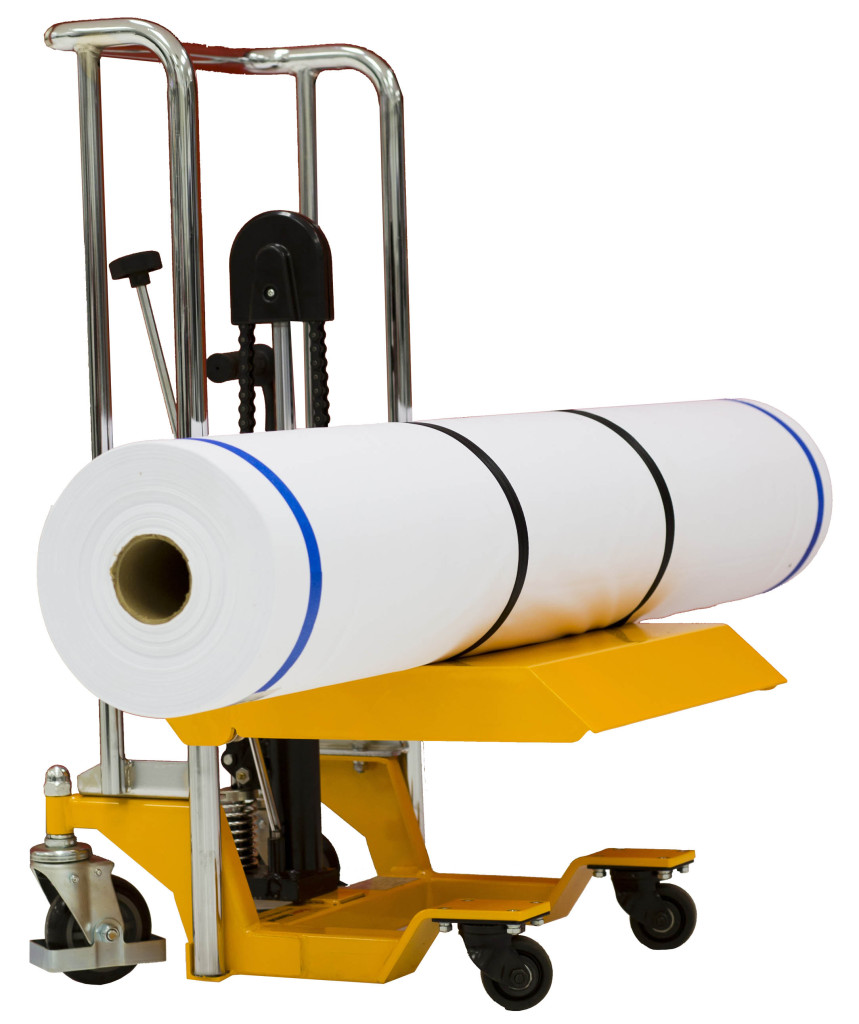 Designed specifically for sign makers and other businesses with the need to handle heavy media rolls. It enables users to quickly and effortlessly lift media as heavy as 200 lbs (90 kg) and as wide as 71 inches (180 cm), with diameters as great as 12 inches (30.5 cm). The compact design allows the user to maneuver around tight corners and through narrow passages. Designed to
operate even in shops with limited floor space.
Save Your Back.
No pulling. No heaving. No hefting. In minutes, with no strain to the back, you can lift heavy or wide rolls associated with today's larger and faster print runs. The On-A-Roll Lifters® sturdy steel construction allows the lifting of media up to 200 lbs. and up to 71 inches wide.
Save Money.
Avoid costly and dangerous mishandling mistakes that result in damaged media.
Save Time.
What was once a two-person job becomes manageable by one, allowing a single employee to safely handle heavy media.
Save Space.
The compact design allows user to maneuver around tight corners and through narrow passages.
Outstanding Features of the On-A-Roll Lifter® Compact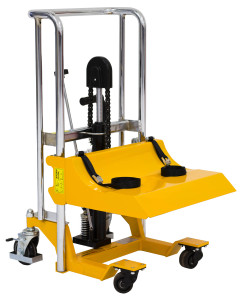 Nylon safety straps allow solo users to pull media rolls of up to 200 lbs. into the securing tray for transport.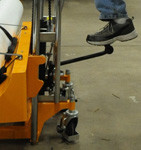 The easy-to-use foot pump allows users to raise the material for transport with minimal effort.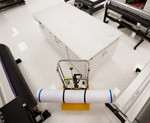 The compact design and heavy-duty rotating casters allow users to maneuver around tight corners and through narrow passages.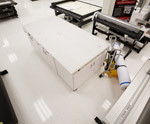 Ideal for tight areas with little maneuvering room.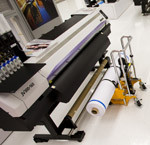 Slide your media rolls right up to the printer for efficient loading.
Extended nylon safety straps provide leverage to help guide the roll into the trough and ensure materials are secured for transport.
Concave trough design of the media tray stabilizes rolls for transport.
Foot pump allows for smooth, effortless lifting within minutes.
360° heavy-duty rotating (and locking) casters enable maneuvering through standard doors and narrow passages.
2-year warranty on hydraulics and media tray. 5-year warranty on cross bars.
Specifications
61579
Roll Weight Capacity
200 lbs (90 kg)
Lift Height
33.5" H (85 cm)
Max. Roll Width
71" (180 cm)
Max. Roll Diameter
12" (30.5 cm)
Overall Media Lifter Dimensions (W x D x H)
22.6"W x 31.34"D x 42.48"H
(57.4 x 79.6 x 107.9 cm)
Media Lifter Weight
177 lbs (80 kg)
Bottom Fork Clearance
4.63" (11.7 cm)
On-A-Roll Lifter® Compact