Javelin Integra cutters 64″ to 144″.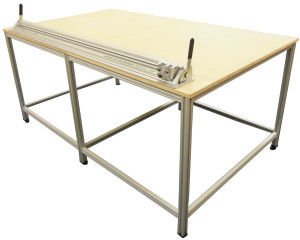 *  Please note that this product has been discontinued with limited quantities remaining. A perfect replacement option for the Proteus Workbench is Keencut's new M-Bench System.
Turn Your Precision Cutting Bar into a Cutting System. The Keencut Proteus Workbench, combined with the Javelin Integra or the original Evolution cutter, creates the ultimate precision cutting table. The modular design of the Proteus enables growing businesses to re-configure and expand their bench as needed – quickly and economically – to work in concert with new demands. No extra tools are necessary, assembly is ultra-simple, and the applications are endless. Any bench or table unit can be fitted with a customer-supplied top of choice – glass, MDF or plywood; the glass installment requires the optional white silicone cord and four extra end caps.
**Worktop and Javelin Integra cutter are not included**
Outstanding Features of the Proteus Workbench:
Adjustable feet allow the bench to be installed on uneven floors without compromising accuracy.
Unique leg to beam fixing brackets apply incredible strength to Evolution 2 Benches.
Proteus Workbench can be used with the Javelin Integra, original Evolution cutter or as a table.
Unique leg to beam fixing brackets apply incredible strength to the Proteus.
The Proteus systems allows for a wide variety of customization.
Create the ideal bench surface using a variety of worktop fixings (worktop not included, 3/4″ MDF or finished plywood recommended).
Proteus

60937

60938
60939

60940

60941

A cm (")

200 (78 3/4)
250 (98 1/2)
300 (118)
350 (137 3/4)
400 (157 1/2)

B cm (")

122 (48)
122 (48)
122 (48)
122 (48)
122 (48)

C cm (")

90 (35 1/2)
90 (35 1/2)
90 (35 1/2)
90 (35 1/2)
90 (35 1/2)

**Worktop is not included, recommend using 3/4″ MDF or Finished Plywood**
Features:
5 year general warranty on all parts
100% Manufactured in the UK
Modular design for a wide variety of customization
Proteus Workbench