Workbench to accommodate all Javelin Series 2 cutter bars 44″ to 124″.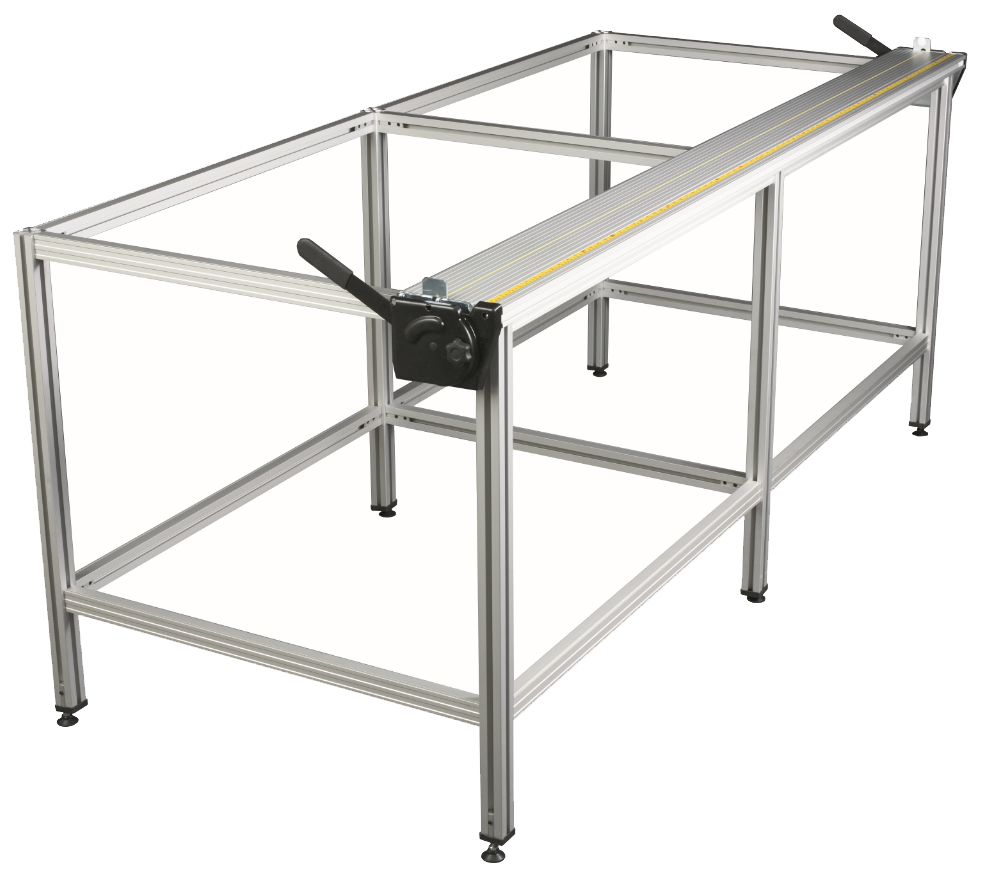 The Keencut Big Bench Xtra improves the accuracy and function of Javelin Series 2 precision cutter bars. Designed with a built in cutting base plate and a Lift and Hold mechanism on each side of the table, the Big Bench Xtra enables users to easily align and trim the largest work projects single-handedly. Aluminum base-plate with leveling system, integrated cutting groove & full-length grip strip for clamping. Constructed from anodized aluminum for long-lasting durability, the Big Bench Xtra makes cutting tables and workstations solid and precise.
**Worktop and Javelin Series 2 Cutters not included**
Outstanding Features of Big Bench and Big Bench Xtra: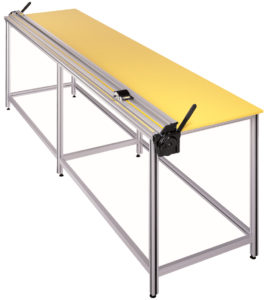 Aluminum table edge extrusion has a cutting base with a narrow groove to accept the blade tip when cutting.
Full-length grip strip for clamping.
Big Bench Xtra shown with Javelin and MDF worktop.
Position or remove Javelin Series 2 cutters in seconds.
Lift & hold levers allow a single operator to feed, align and cut materials with ease.
High grade anodizing for clean good looks.
Adjustable feet allow the Big Bench/Proteus to stand on uneven floors without compromising accuracy.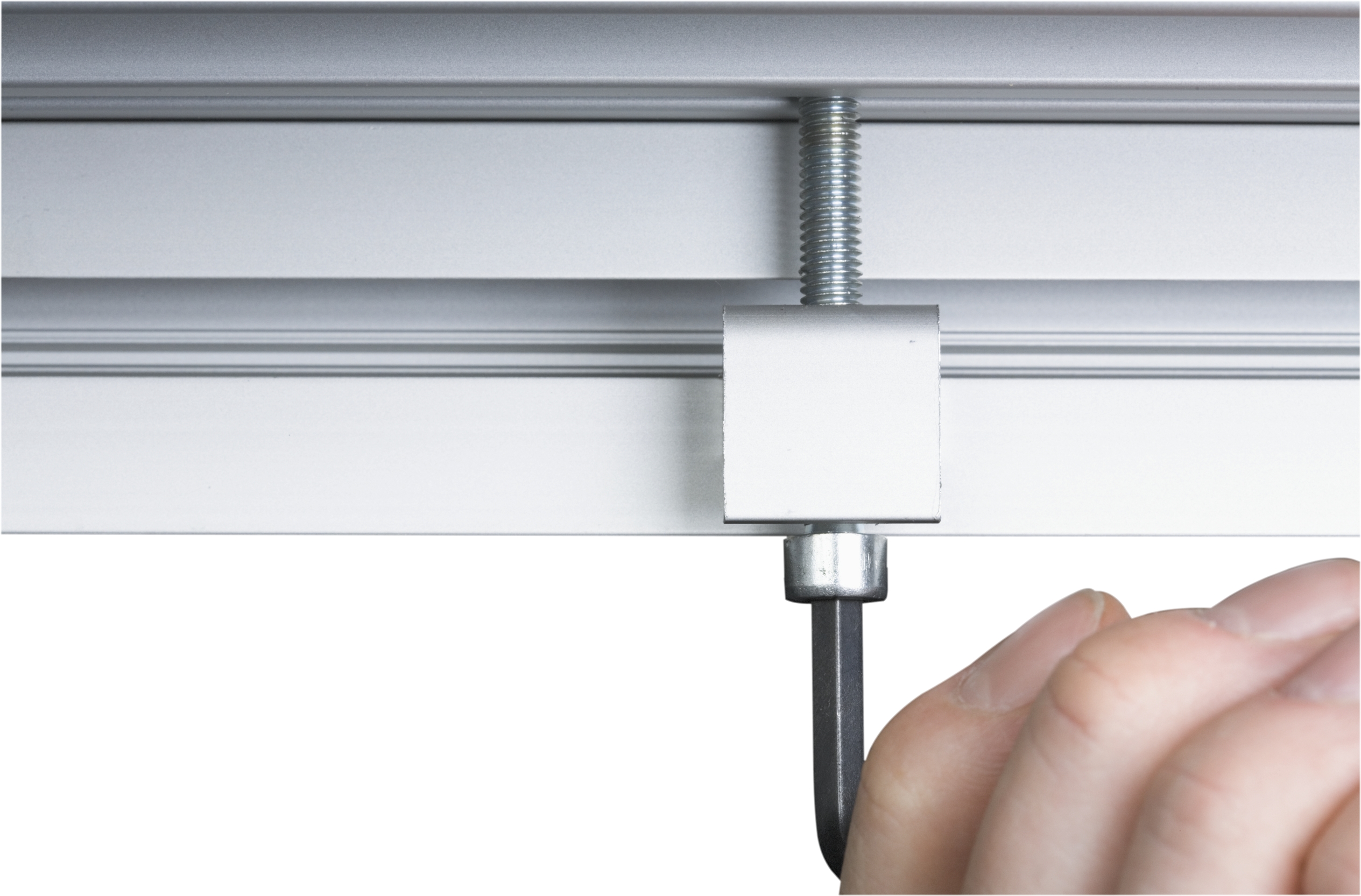 A base-plate leveling system provides extreme flatness, consistent clamping and cutting accuracy.
Create the ideal bench surface using a variety of worktop fixings (worktop not included, 3/4″ MDF board recommended).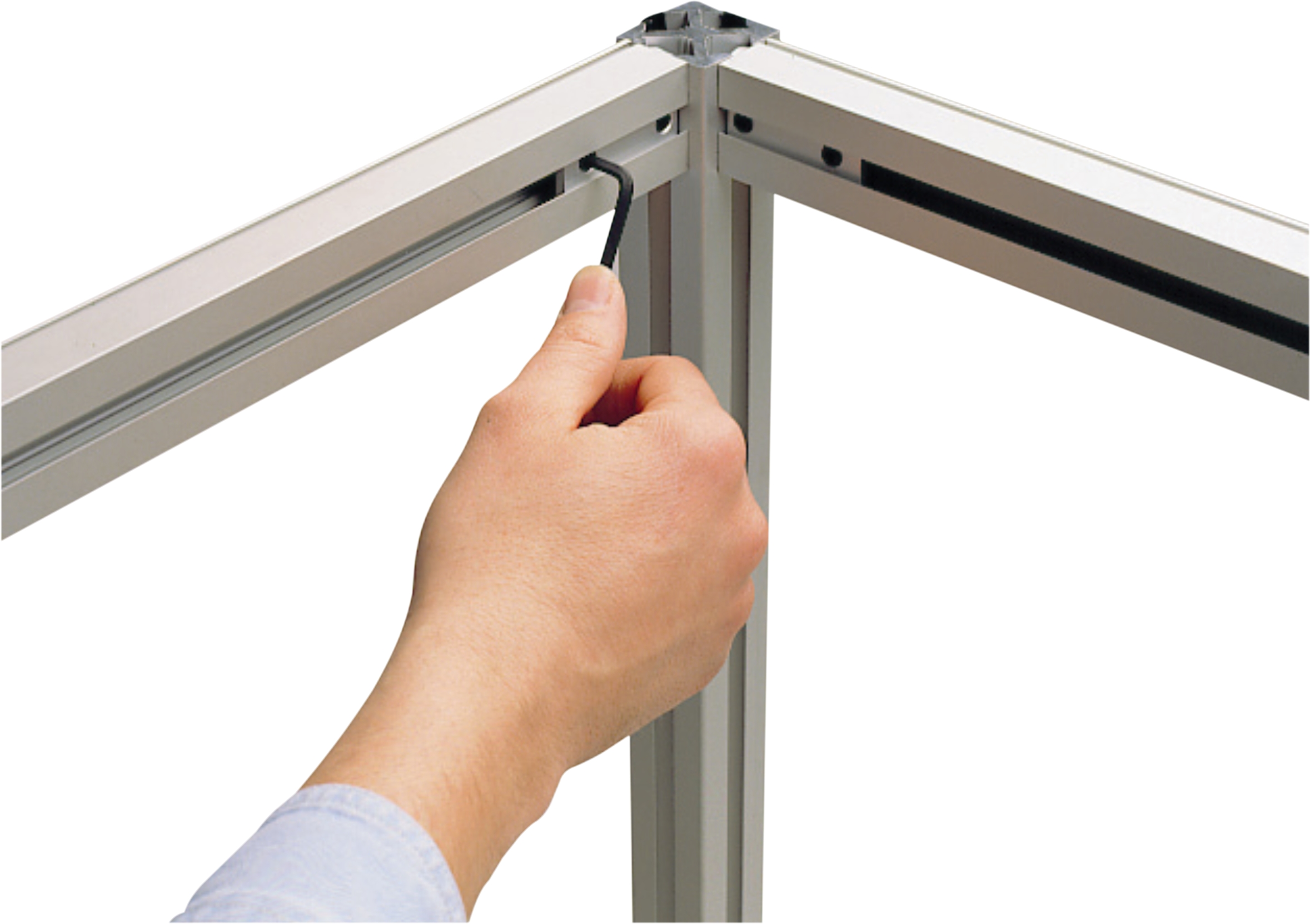 Unique construction provides a secure and rigid work bench.
The Keencut Big Bench Xtra systems allows for a wide variety of customization.
Assembly tools included.
Item #

Big Bench &
Big Bench Xtra Sizes

Customer-Supplied Worktop

Overall Bench Size

60928

For the 44″ Javelin Series 2

49″W x 31″D x 3/4″H

53″W x 36″D x 35 1/4″H

60930

For the 64″ Javelin Series 2

69″W x 31″D x 3/4″H

73″W x 36″D x 35 1/4″H

60932

For the 84″ Javelin Series 2

88″W x 31″D x 3/4″H

92″W x 36″D x 35 1/4″H

60934

For the 104″ Javelin Series 2

108″W x 31″D x 3/4″H

112″W x 36″D x 35 1/4″H

60936

For the 124″ Javelin Series 2

128″W x 31″D x 3/4″H

132″W x 36″D x 35 1/4″H

60922*

For the 160″ Max Cutter

165 1/2″W x 31″D x 3/4″H

169 1/2″W x 36″D x 35 1/4″H

60924*

For the 180″ Max Cutter

185″W x 31″D x 3/4″H

189″W x 36″D x 35 1/4″H

60926*

For the 200″ Max Cutter

204 3/4″W x 31″D x 3/4″H

208 3/4″W x 36″D x 35 1/4″H

*Discontinued work bench
**Worktop is not included, recommend using 3/4″ MDF or Finished Plywood**
Features:
5 year general warranty on all parts
100% made in England
Improve the accuracy and function of the Max and Javelin Series 2 precision cutter bars
Includes a Lift-and-Hold Mechanism on each side of the table
Big Bench Xtra
Big Bench Xtra (for the Javelin Series 2 Cutter Bars)
60928
Big Bench Xtra for the 44″ Javelin Series 2
$820.00
60930
Big Bench Xtra for the 64″ Javelin Series 2
$910.00
60932
Big Bench Xtra for the 84″ Javelin Series 2
$1,205.00
60934
Big Bench Xtra for the 104″ Javelin Series 2
$1,285.00
60936
Big Bench Xtra for the 124″ Javelin Series 2
$1,375.00
Replacement Parts and Accessories: