General purpose cutters for media ranging from 44" to 124".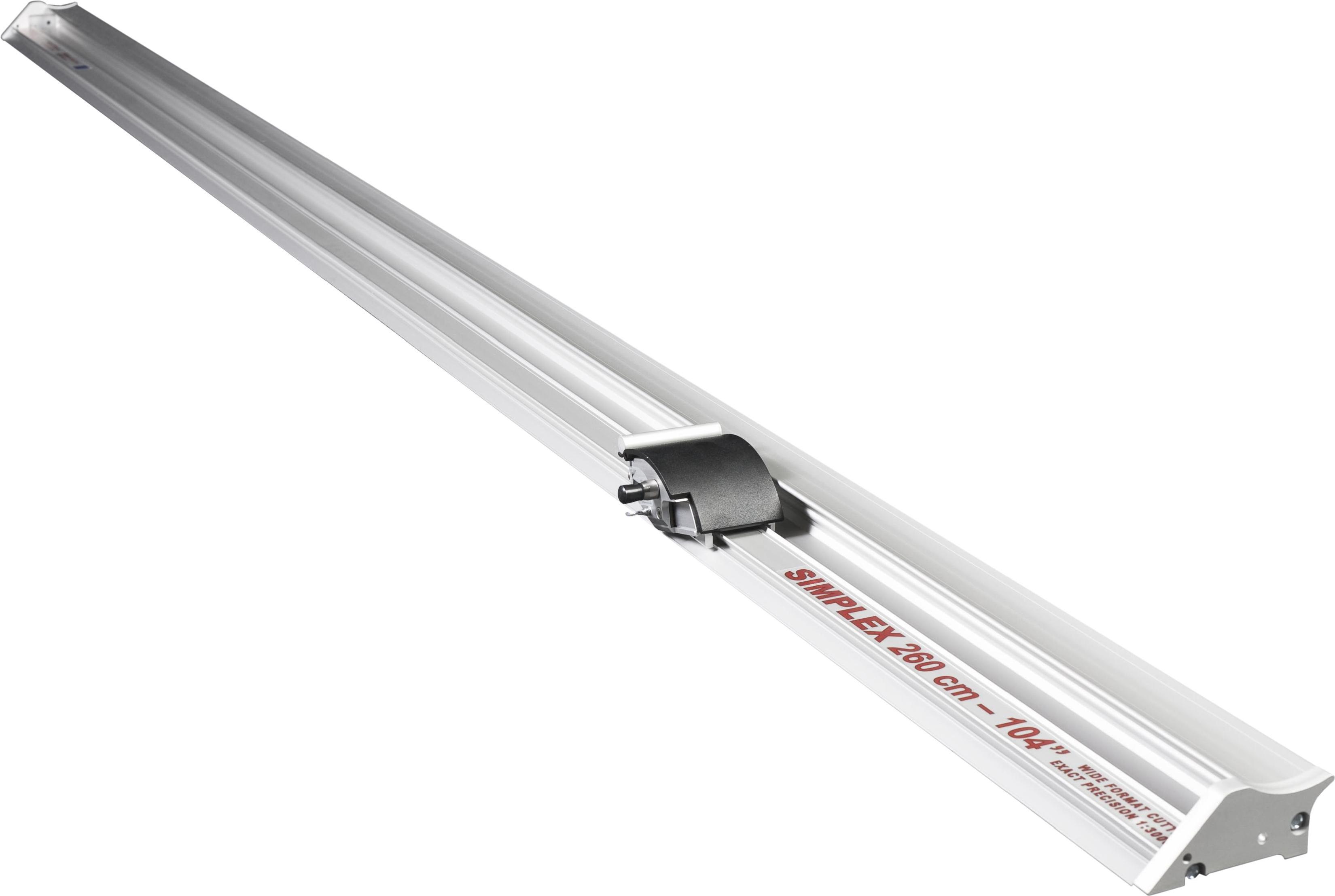 The Simplex is more than a straight edge. It's a lightweight, portable straight edge mounted with a quality cutting head that features utility knife blades.
For use on a floor or a bench, the Simplex is accurate to within .03″ over the full length of the cut and is an economical alternative to the Javelin Series 2 and Sabre Series 2 GPC.  Full-length silicone rubber grip strips protect and ensures that the material is held securely.
Perfect for Cutting Up to 3/8″:
Corrugated plastic
Foam board
Film
PVC (10mm)

Paper
Tissue
Banners
Fabric & textiles*
*With optional textile/fabric cutting wheel
Outstanding Features of the Simplex:
Rear loading blade holder for swift replacement.
Includes a 100 medium duty blades.
The lightweight extrusion design makes the Simplex an ideal general purpose cutter.
Simplex can also accept an optional 28mm textile cutting wheel (model #69140).
Two full length silicone grip cords protect and clamp your materials.
Safe and efficient blade ejector also doubles as a cut depth gauge.
The cutting head offers blade depth adjustment and accepts utility blades that cut to a depth of 3⁄8″.
Features:
Quick fit thread cap for easy accessory attachment
Rotating knob for ultra-fine blade depth adjustment
High-grade polymer bearing system for lasting accuracy
Includes 100 medium duty utility blades
5 year general warranty
20 year warranty on bearings
100% Manufactured in the UK
Simplex Cutter Bar
| | | |
| --- | --- | --- |
| 60455 | cuts 44″; 50″W x 6″D x 2 1/2″H | $545.00 |
| 60456 | cuts 64″; 70 3/4″W x 6″D x 2 1/2″H | $610.00 |
| 60457 | cuts 84″; 89 1/2″W x 6″D x 2 1/2″H | $655.00 |
| 60458 | cuts 104″; 109 1/4″W x 6″D x 2 1/2″H | $720.00 |
| 60459 | cuts 124″; 128 3/4″W x 6″D x 2 1/2″H | $810.00 |
| | | | | | |
| --- | --- | --- | --- | --- | --- |
| Simplex | 60455 | 60456 | 60457 | 60458 | 60459 |
| A cm (") | 110 (44) | 160 (64) | 210 (84) | 260 (104) | 310 (124) |
| B cm (") | 127 (50) | 177 (70.75) | 227 (89.5) | 277 (109.25) | 327 (128.75) |
Replacement Blades and Accessories: