Cut and Seal Synthetic Materials Accurately.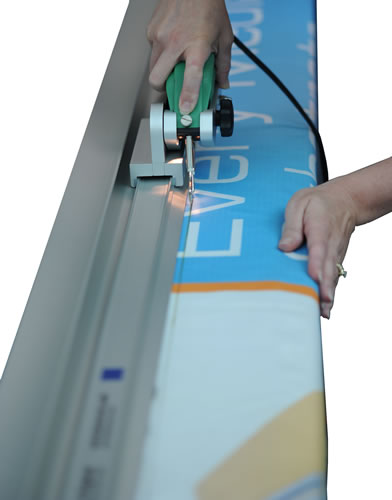 Foster Keencut's Heat Knife Carrier accepts HSGM's HSG-0 heat knives and blades (sold separately). Ideal for accurately cutting and sealing the edges of synthetic fabrics that could flex, unravel or fray, the Heat Knife Carrier attaches to your Keencut Cutter Bar with a single Allen key adjustment (first the Sabre, Sabre 2, Evolution and Evolution-E2 cutter bars). And it doesn't interfere with the cutting head.
Save time and money and reduce work-related injuries from cutting by hand or with a standard utility blade.
Perfect for Cutting and Sealing Synthetic:
*HSGM Heat Knife & tempered glass sold separately. It is recommended to use 1/4″ tempered glass for a long term heat resistant surface. Heat Knives operate most efficiently on tempered glass surfaces, which do not absorb heat (unlike wood and metal surfaces), ensuring maximum blade heat for the most accurate cuts.
Outstanding Features of the Heat Knife Carrier & Heat Cutter:
The simple-to-attach Heat Knife Carrier includes a spring-loaded adjustment for tightening and fixes directly to the cutter's aluminum extrusion bar.
Uses linear bearing sliding system.
Item #60398
HSGM Heat Cutter
 works with the 60398 Heat Knife Carrier.
Cut and seal the edges of synthetic material to prevent fraying.
Uses 120 V / 60W.
** Blade not included **
Item #67100
Type R Blade
This general-use blade (1.14 inches of heated surface) cuts straight lines easily on glass surfaces and is designed for synthetic fabrics, webbing and ropes of up to 17mm diameter.
Item #67102
HSO-N Blade
This precision-based pointed blade with 9 mm of heated cutting area is designed for fine fabrics and is useful in projects requiring curved cuts.
Item #67101
Cutting accuracy – Heat Knife Carrier consistently cuts 1/4 inch from the aluminum extrusion bar.
Quick blade heat-up – 6 to 8 seconds.
Safety – Automatic shut-off of the heating mechanism when the Heat Knife is released.
1-year limited warranty for manufacturer defects on HSGM heat knives. Does not include the recommended 1/4″ glass cutting surface for use beneath the heat knife.
5 year general warranty on Carrier
20 year warranty on Carrier's bearings
Heat Knife Carrier & HSGM Heat Knife